Road Show at Dale Hall Primary School, Ipswich
Posted 30 Oct 2022
In recent years, we have developed an incredibly valuable relationship with Dale Hall Primary School and Head of PE, Adam Glover.
This particular EBF tennis roadshow event was delayed numerous times because of COVID, but Adam, and our chairman Nino were not going to let the pandemic stop the eventual enjoyment and accessibility to our wonderful game of tennis.
Yes, we had to wait, but it was worth several months of bookings and cancellations. Determination won the day!

As with most of our road shows, we stayed at the school all day and saw over 200 pupils. This particular Road show was held outside, and incorporated many components, including lots of games and laughter from all the pupils.
As always, we started with a very good warm up, then skills and drills to fire up the body and the mind. This was then followed by some shadowing drills, covering the basics of tennis techniques. We always hope that the physical feelings the young pupils experience, through rhythm, timing, tempo etc., motivates them to ask their parents if they can join the world of tennis.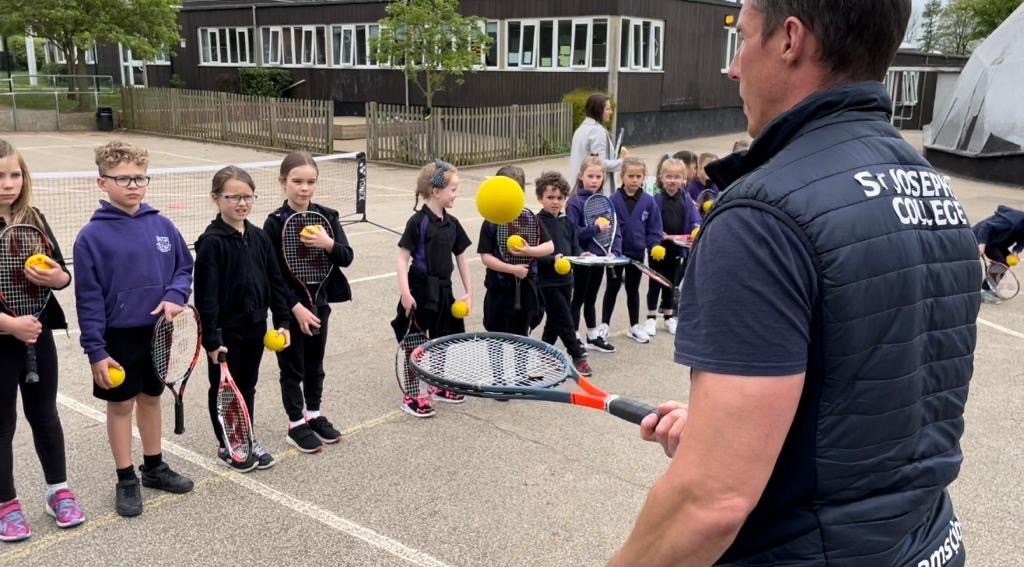 This particular session at Dale Hall, was very memorable, because of the fun games we played, including the Burger and Bun game. This is where each pupil and their team build a burger. The burger starts with a racket at the bottom, the bun, then a ball, representing the burger, then another racket representing another bun, then the team starts again, creating a stack. Once the stacked burger has been created by all the teams, they then need to complete a journey across a designated distance. They need to complete this distance without the burger stack falling apart in any way. The first team out to their turning point, then back past the starting line, wins the challenge.
Although this really is a fun game, there is a serious aspect to it, the 'Burger Bun' game is really a team building experience and one that has massive value.

by Wendy Henderson