Player of the Month – February: Morgan Hadley
Posted 15 Mar 2016
Our congratulations to Morgan Hadley who deservedly picks up the award for February 2016's Player of the Month, an award he is winning for the very first time!
Morgan has been nominated for this award on a number of occasions but has never won, so it's lovely to see that his patience and sheer determination has (deservedly) come to fruition.
Morgan quietly goes about his business and is not a player to be overly vocal out on court, but he has shown over the past couple of months a new found determination and a desire to succeed. This has been noticeable in both his technical and squad sessions where the quality of his tennis has risen, this in-turn has had a positive effect during his match play and the results which have followed.
Picture: Morgan with his Player of the month awards.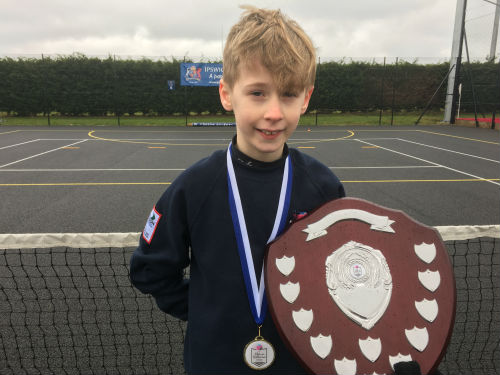 Morgan reached two Orange Ball finals in February, but it's not just for reaching these finals which won Morgan this award, it is also due to a combination of the way he has played and the manner in which he has played. Morgan is a hugely honest player, which is something we instill into all of our players at Bally's academy and it has been a real joy to watch him develop as a player both on and off court.
Congratulations Morgan from Coach Nino, all of the EBAT Coaches and your fellow EBAT players!
Our congratulations also to the following players who were also nominated for this month:
Izzy Gebhard
Lewis Hind
Abigail Terry
Coach Jamie

by Louise Stephens