Give it Your Max and The Elena Baltacha Foundation Working Together
Posted 15 Mar 2016
Story by Nino Severino the Elena Baltacha Foundation Chairmain
Tara, Michael and myself have all experienced tragedy, I lost my beautiful wife and soul mate Elena Baltacha to cancer, Tara and Michael because they lost their son Max in a tragic car accident.
Picture: Max Stotesbury & Elena Baltacha
The deep and agonising pain that is felt when you lose someone who is such a big part of you is indescribable, coping and trying to move forwards with the pain that is deep within you is a huge challenge. Somehow you need to find something positive to drive you on, something that represents much of what your loved one stood for, for Tara and Michael this is Give It Your Max, for me it is my wife's foundation.
Max Stotesbury died in October 2004 when he was just 18, Max had spent much of his spare time not only playing tennis, but also helping others to learn the game. In the summer of 2004 he became a qualified PTR tennis coach and during the holidays and at weekends he would assist Dan Bloxham with the Wimbledon Junior Tennis Initiative (WJTI). After Max's death, Tara and Michael set up Give It Your Max was to honour Max and his passion for sport.
I met Michelle Oldham who is GIYM's charity secretary and immediately it was obvious that both of our foundations had plenty in common, we both invest in the focus of getting more children to play tennis. This immediate synergy gave us both inspiration to collaborate in whatever way we could.
Picture From left to right: Paul Regan (EBF), Michelle Oldham (GIYM), Nino Severino (EBF) and Laura Ripley (GIYM)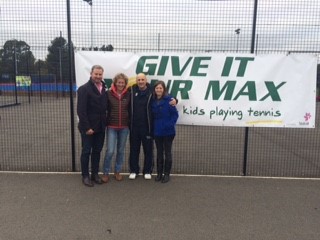 To ensure the relationship developed, Michelle and the GIYM team attended a number of meetings in London and carried out site visits to Bally's academy in Ipswich, this is when the plan was created. GIYM have been major investors and supporters in our EBAT Tennis Roadshows, in which the EBAT coaches visits schools located in and around Ipswich and Colchester, introducing and engaging with children in various clubs and schools to encourage them to pick up a racket and play tennis.

When we visit a school, every child has the opportunity to join a fun packed session of tennis, the EBAT team stay all day and the programme can last anywhere between 3 -5 days.
The Road Shows are extremely successful, since Elena started delivering them four years ago we have seen over 12,000 children, with hundreds joining tennis academies or clubs. The children join just to play and have fun and enjoy tennis, some join performance programmes to take it more seriously but this is not compulsory. Next year the partnership will continue and we are planning to visit 24 schools and deliver tennis to thousands more children in the south east.

Max and Elena were both big characters who lived life to the full, individuals who people warmed to and respected, their foundations ensure their spirit lives on, long may this continue.

Picture: Elena Baltacha-Severino with a group of parents and pupils from one of the EBAT roadshows.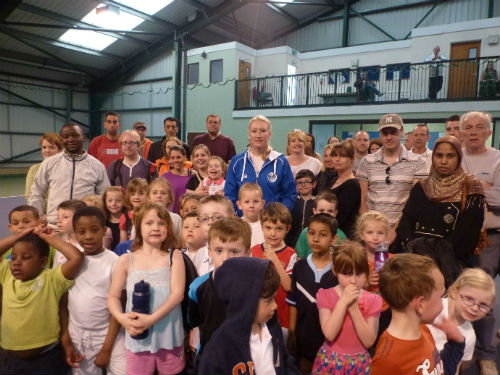 by Louise Stephens