Simon Thelwall-Jones and Ben Haining Complete the Great North Run
Posted 09 Oct 2017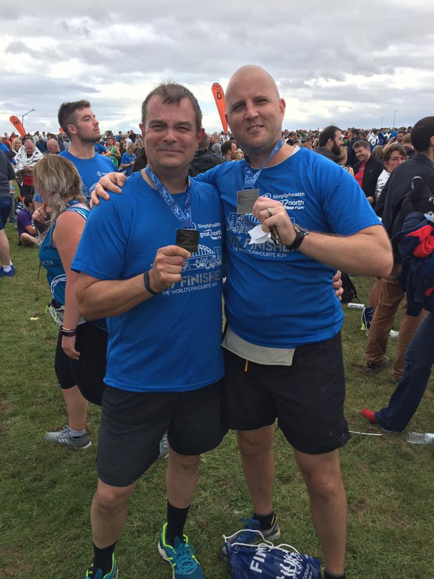 Foundation supporter Simon Thelwall-Jones and Foundation Trustee Ben Haining completed the Great North Run on the 10th of September and managed to raise an impressive £2000 that will be put to great use by the Foundation. The idea to take on this tough challenge arose when Simon persuaded Ben about 18 months ago to replace his road bike with running shoes and to complete another fund raising event in Bally's memory.

The boys trained hard in preparation for one of the toughest half-marathon road courses around but both were carrying calf and Achilles problems going into the event. Ben also encountered delayed flights and a few logistics challenges before the race. However, both made the start line and at the half-way stage were flying and looked set for a pretty quick time. However, the lads had to dig deep when Simon tore his calf muscle with three miles remaining!
Undeterred the boys dug in together and Simon showed tremendous courage to run through the pain, the kind Bally would have been proud of and they dragged themselves home in a very respectable time. As they crossed the line together and felt satisfied they had given all they had.
Ben had the following to say after the event:
'I would like to thank the people of Newcastle for their wonderful hospitality and for the tremendous event that is the Great North Run. I would also like to thank Simon for his tremendous fundraising, heart, courage and enthusiasm on the day. He was a true warrior and I know Bally would have been proud of our efforts today'.

by Wendy Henderson