Nature Valley International Eastbourne Tennis Tournament 2019
Posted 01 Jul 2019
The Elena Baltacha Foundation players, parents and support team were again blessed with glorious weather for this World Class grass court event, the last leading into Wimbledon.
As always, The WTA ensured that our visit was unique, extra special and a VIP experience. Kerrilyn from the WTA met the EBF Foundation group, and personally gave a tour around this Visiting Eastbourne is always a great pleasure. It is an outstanding venue, which has been developed to impressive levels as each year goes by.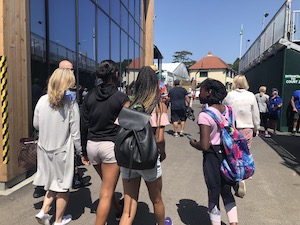 The girls were taken to the players changing rooms, the restaurant, and finally the players lounge where players from around the world relax before and after their matches..
The girls were also shown the very large media area, set up for the world's press to use as they ensured the fans around the World received updates and news from all the day's action.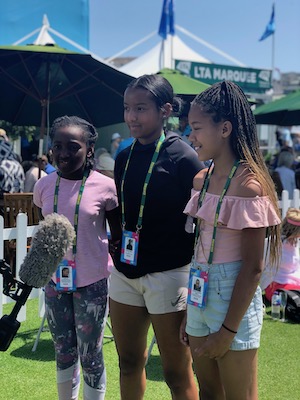 Pam Whytcross, Tournament Director, ensured, as always offered a very warm welcome to the girls. Despite her heavy schedule, Pam spent so much time with them, as did Ann Austin from the WTA Charities who had just flown in from Miami the day before. Pam delivered some incredible news - the three girls who attended, Justice Hall, Natasha Mashonganyika and Yasmina Severino-Green were to accompany Angelique Kerber and Simona Halep on to centre court for the coin toss at the start of their match,. Justice was given the honour of tossing the coin.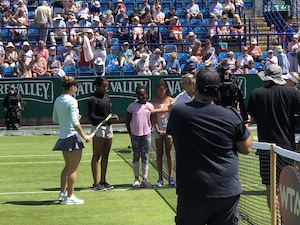 After the match the girls experienced the actual media room where the players are seated on stage to take questions from the media representatives. It went even further, as the girls were all given the opportunity to ask the winner of the match Angelique Kerber questions of their own.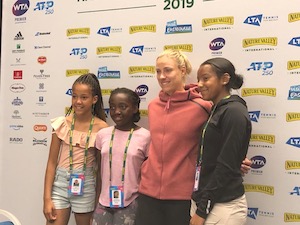 The tournament title was won by Karolina Pliskova (CZECH) who beat Angelique Kerber (GER) 6-1 6-4.

by Wendy Henderson