Looking Forward to the Australian Open 2016
Posted 13 Jan 2017
Australian Open 2016 - Anticipation is high!
The Australian Open kicks off on Monday 16th January with the final scheduled for the 29th. Being the first Grand Slam Tournament of the season the anticipation levels are huge across the world. That's particularly true from a British perspective this year, with genuine contenders in both the women's and men's competitions.

The draws were made today and there are some interesting potential clashes on the horizon. Sir Andy Murray is in the same half of the draw as Roger Federer which means they could meet in the quarter finals and Jo Konta may have to get past Serena Williams in order to reach her first Grand Slam Final. Heather Watson and Naomi Broady both face seeded Australians in their opening matches so they'll have the local crowd to contend with as well as quality opponents.
Australian Open – The women to look out for
Angelique Kerber (No1 Seed)
In 2016 Kerber won two Grand Slams, reached the Wimbledon final and collected an Olympic Silver Medal, as well as taking the number 1 spot from Serena Williams. Not a bad 12 months by any standard. She'll certainly be one to watch in Australia, but with a below par end to 2016 and the added pressure of being reigning champion, questions are already being asked about her ability to replicate the same performance levels over the course of another year.
Serena Williams (No2 Seed)
For any other player, a Wimbledon title (and a record breaking one at that) along with three major finals would be a good year, but Serena isn't any other player, and 2016 was by her high standards, not the best. If incentive were needed she's chasing her 7th championship in Melbourne and a record 23rd Grand Slam title. Write her off at your peril!
Johanna Konta (No10 Seed)
It's been an incredible 12 months for Elena Baltacha Foundation Ambassador Jo Konta, during which time she's gone from 47th in the world to top ten. It was last year's Australian Open where she had the best Grand Slam run of her career so far, getting to the semi-finals, so she's got high hopes for this year's tournament. And after this week's superb win over Agnieszka Radwanska in the final of the Sydney International who'd bet against her going one better?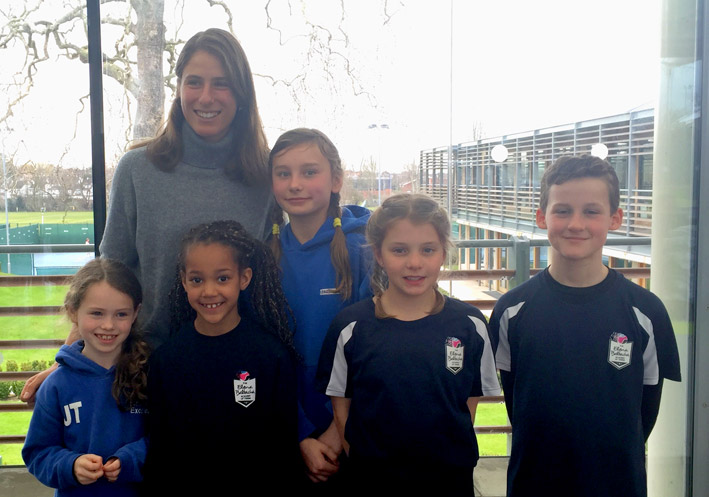 Australian Open – The men to look out for
Sir Andy Murray (No1 Seed)
Everyone at the Foundation is so proud of what Andy has achieved in recent years. With Judy Murray being a long standing Patron of the Foundation we've not only watched his progress, but we've had an insight into the hard work, sacrifice and determination that has got him where he is today, he deserves all the success that has come, and is still to come, his way. So Andy starts this Australian Open with another first, he's seeded number one ahead of Novak Djokovic for the first time, meaning they could meet in the final if things go to plan for both players.
Nick Kyrgios (No14 Seed)
All the talk recently has been about Kyrgios' limp and injured knee, but that hasn't stopped the groundswell of expectation around the home-grown talent. He's always a big draw and this week will be no different. Anyone coming up against him in the next few weeks can expect a lot of noise from the crowd and tennis of the highest standard from one of the games mavericks.
Roger Federer (No17 Seed)
As with Serena Williams, Federer's standards are higher than the rest of the field which makes the fact that he's seeded 17th this year very surprising. Despite this there will undoubtedly be lots of talk about the fact he's chasing his 18th Grand Slam this year, and it would be a brave person to bet against him being in the mix come the second week.
Australian Open Facts & Figures
The Australian Open was founded in 1905

Until 1988 the Championships were played on grass

There are 40,000 tennis balls are used every year in this tournament

Over 300 ball boys and girls will be employed during the fortnight

The tournament is played during the Australian summer when temperatures can reach 45 degrees centigrade

It's the only Grand Slam which has been held in different countries and cities; Australia, New Zealand, Melbourne, Sydney, Adelaide, Brisbane and Perth.

When Martina Hingis won the women's title she became the youngest winner at 16 years' old

So with the tournament just a few days away from starting all that remains is to give everyone taking part our best wishes…especially Foundation Ambassador Jo Konta! Our players, coaches and parents will be cheering you along every step of the way. #Believe
Tagged by topic: andy murray , australian open , jo konta