Jamie Lewis Spearheading Personal Development Opportunities For SS4B Athlete Students
Posted 9th May
Nino Severino Co-Founder of The Elena Baltacha Foundation and Creator of SS4B said "we have been searching for a very special individual to step into the incredibly important role of SS4B Programme Director. This role will overlook the delivery of our unique and exciting SS4B Programme, offering SS4B Student Athletes an incredible personal development programme, adding to their chances of successfully transitioning into a career pathway.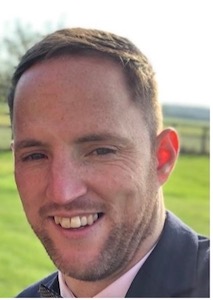 Jamie Lewis, SS4B Programme Director
The SS4B Programme has many objectives, all delivered by very experienced team members. We want our SS4B Student Athletes to know that their time in sport is not only about learning how to become technically and tactically skilful at their sport, but also to be connected with the virtues and skills that being a competitive athlete will provide them with. The SS4B team want to be an added value to their existing sporting culture and environment, adding more highly skilled, qualified and experienced coaches and mentors to their life.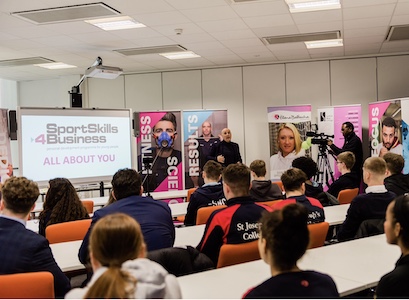 Nino Severino Founder and creator of the SS4B Programme presenting to SS4B Athlete Students at Suffolk New College
Being a SS4B Student Athlete will offer positive life experiences and events, our members will all be invited to, and have access to our first virtual SS4B event experience, an exclusive interview with Graham Dove, from the world of sporting finance and wealth management. Graham will tell his story, his time as a semi-professional football player, which led him to an opportunity to enter the world of finance. Graham now managers the money of some of the biggest names in British football. During the interview, he reveals what it is like to have his job, and the amazing experiences this job role presents to him, each and every day.
As well as events, the SS4B Programme will offer our SS4B Student Athletes a substantial educational opportunity. There are 12 initial modules which will be studied over the first year, covering very valuable components.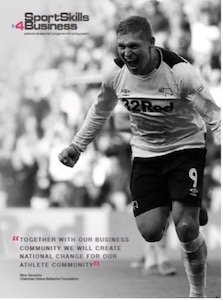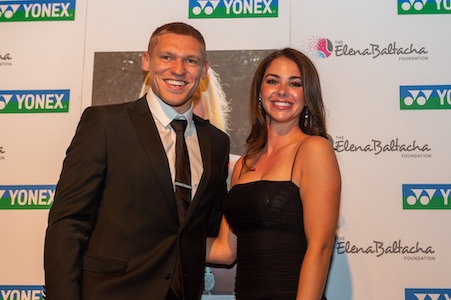 Martyn Waghorn, SS4B Ambassador featuring on the front of our SS4B brochure, and with his wife Leoni a SS4B supporter on the red carpet at our Foundation awards.
Our SS4B Programme deserves a highly skilled, experienced and knowledgeable leader, I'm very pleased to announce that we now have in place our SS4B Programme Director. Jamie Lewis will step into this very important part time role, ensuring that we connect with as many athletes as possible and offer them the support and development components that sit within the SS4B Programme.
Nino said "Jamie's appointment was very easy for me, it's become very obvious, that he is a committed family man, husband to April, father to Harvey 4 years old and Summer 10 months old. Jamie has shown himself to be a very high calibre professional, who is dedicated to his current full time job role which makes him an invaluable SS4B team member".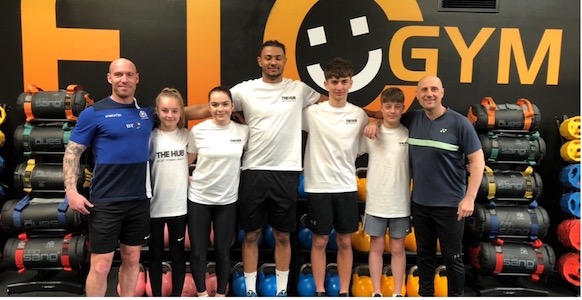 Wez Pooley, former professional rugby player and SS4B Ambassador (left) and SS4B Founder and Creator, Nino Severino (Right) with a group of SS4B Athlete Students
Jamie is very connected with the world of sport, playing a number of sports including football, golf (12 H'cap), running and working out regularly. Jamie completed his higher-level education in the Sports, Development and Fitness segment whilst training to be a P.T.
He has also earned himself a very strong CV in terms of business, his last two jobs have seen him taking on incredible responsibilities, operating as Sales Director in a £60m turn over company, building his own sales and internal support team, as well as managing a team of area managers. His primary focus was nurturing the team and helping them fulfil their potential in a highly competitive industry. This role led Jamie to be part of a team developing new production and introduction, setting up smarter processes and systems and securing record levels of business.
Jamie's current job is a National Key Account Manager in the building services industry working for FläktGroup. FläktGroup are a £600m organisation with over 3000 employees and operating in 65 countries. He manages the sales and service aspect of some of the largest mechanical and electrical companies in the country and helps to strategically develop these clients.
Leading CEO, Directors and professionals from many of the regions leading companies, attending our SS4B launch pre Covid, hosted by our SS4B supporter Duncan Cogdell
In his spare time Jamie mentor's students through the Future First programme helping 14–18-year-olds making their next step in life, whether into the working world or further education. He is also a qualified Life Coach and helps coach clients to reach their true potential with mentorships & skilled coaching sessions.
This fusion of sport, business and mentoring experience ensures Jamie is well placed to deliver his part time role of SS4B Programme Director, ensuring every Student who joins the programme will be supported by a SS4B leader and mentor who will provide every member with the highest quality environment and developmental experience.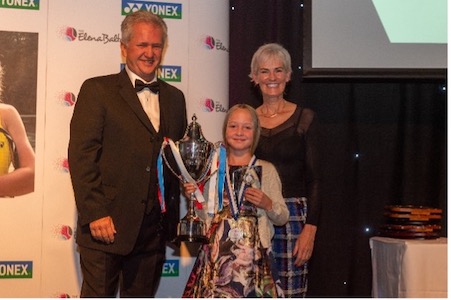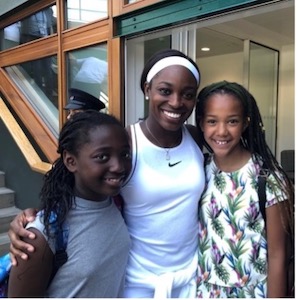 Sam receiving her Foundation award from Judy Murray and Louis Cayer (GB Davis Cup Coach) and Yasmina and Natasha with USA player and Grand Slam Champion, Sloan Stephens at Wimbledon.
Jamie's role alongside Nino is to drive the programme forward with the SS4B team, focusing on delivering the best possible experience for SS4B Student Athletes, ensuring all leave the programme with a greater confidence and wider life knowledge.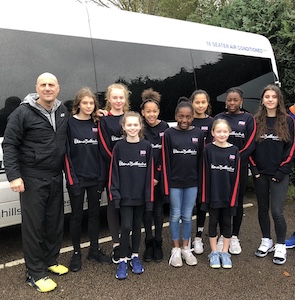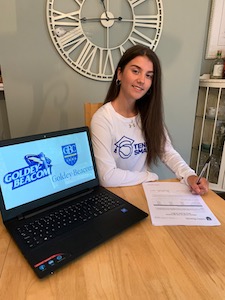 Nino accepting an invitation from Anne Keothavong GB Fed Cup Tennis Captain, taking a group of Foundation athletes to watch the GB Tennis Team at Copper Box Arena. And Macey who has been part of the foundation since she was 7 years old, signing her contract with a top USA University.

by Lindsay Farish-Carradice